Guntur, October 28 : Loksabha MP Rayapati Sambasiva Rao on Sundy expressed displeasure for being ignored by the Congress High Command during the expansion of Union Cabinet.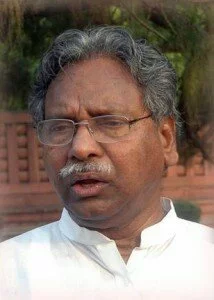 Talking to reporters here, the Guntur MP said that while some juniors were inducted into the Union ministry, several senior MPs were completely ignored by the party. He said he would take a decision on the future course of action in a day or two after holding discussions with his supporters and his brother and MLC Rayapati Srinivasa Rao. He is planning to convene a meeting to discuss the injustice done to the party seniors during the Sunday's Union Cabinet's expansion.
It may be mentioned that Eluru MP Dr Kavuri Sambasiva Rao has already submitted his resignation from the Lok Sabha membership alleging injustice by the Congress High Command. He has sent his resignation letter to Lok Sabha Speaker Meira Kumar and Prime Minister Manmohan Singh. Several senior leaders have been trying in vain to convince Kavuri to withdraw his resignation.