Hyderabad, October 28 : In another case of temple burglary in the Old City, some unidentified thieves broke open into the Mahankali Temple of Uppguda and stole cash and gold worth nearly Rs 5 lakh.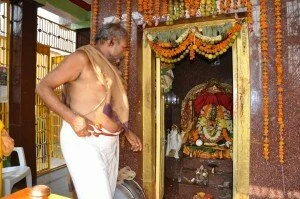 The burglary, suspected to have occurred on Saturday night, was noticed on Sunday morning when constables of Chatrinaka police station were patrolling the area. The constables noticed that the lock of temple's main door was broken. On receiving information, senior police officials, CLUES team and fingerprints experts reached the spot.
Police found that the burglars stole about two kilograms of silver antique idols, three tolas of gold ornaments and cash offered by the devotees, all worth nearly Rs 5 lakh.
As the news spread, hundreds of devotees gathered outside the temple and staged a dharna in protest against the failure of police to provide security to the temple. They alleged that the city police have failed to take lessons from the sensational theft case at Mahankali Temple at Laldarwaza.
Deputy Commissioner of Police (South Zone) Akun Sabharwal and other senior officials also visited the spot. The Chatrinaka police have registered a case and started investigation. Special teams have been formed to nab the culprits. Police officials are also studying the modus operandi and pattern of crime to check whether the same gang was involved in three cases of thefts at temples reported in the Old City in the recent past.