Hyderabad, October 28 : Telangana Political Joint Action Committee chairman Prof M Kodandaram on Sunday exhorted the media professionals from the region not to tolerate the discriminatory attitude of State Government against them.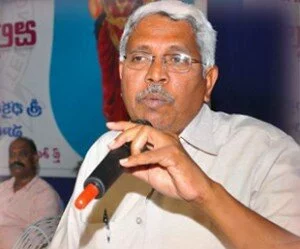 Extending his full support to the "Kalam Kavathu" (Pen March) being organised by Telangana Journalists Forum on October 30, Prof Kodandaram alleged that the State Government was trying to portray the supporters of Telangana State as extremists. Condemning the discriminatory behaviour of the government against Telangana journalists during the recently held global biodiversity conference, he said that the targeting the Fourth Estates was against the very spirit of democracy.
The TPJAC chairman said that journalists should not tolerate any discrimination and organise protests against the same.
Meanwhile, TJF convenor Allam Narayana appealed to the people to participate in "Kalam Kavathu" to protest against the government's discriminatory attitude of not allowing media representatives like T-News, Namasthe Telangana, HMTV, V6 and other organisations to cover Prime Minister Dr Manmohan Singh's programme of COP-11 on October 16.