INN Live is India's first 24-hour online news channel in Urdu language. It is being run by a team of both experienced and young professionals.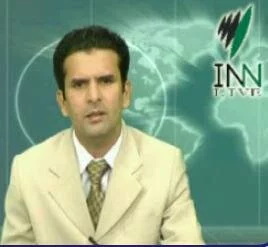 Our team of both young and experienced professionals is headed by Shaik Ahmed Ali as the Editor-in-Chief. He has spent about 15 years in journalism and served prominent media organizations including Andhra Pradesh Times, Deccan Chronicle, The Times of India, Star News and Network-18 (CNN-IBN & CNBC Awaaz). Besides politics and crime, he specialises in issues concerning Indian Muslims. He also conceptualised and successfully launched a cable news channel in Urdu language in 2010.
We broadly cover all the political, general and sports events that happen across Andhra Pradesh. The news scripts are original and are compiled by our team of reporters and stringers spread across the State and a few other cities. However, since the channel is in Urdu language, we also focus on coverage of events that happen in the Old City of Hyderabad.
We also cover important national and international news happenings.
Our news bulletins are purely informative in nature and we do not give any analytical touch to any news event. In order to maintain the policy of being neutral towards all political groups, sections, religions or castes, we completely avoid showing statements or news stories that might hurt the sentiments of any particular group of individuals.
INN Live is the first channel to have entire 24-hour content based on hardcore news. We believe in innovation and therefore, we designed our content to suit the requirements of our online viewers. Since most of the viewers access our channel from their office internet, we have short bulletins of just 12 minutes. The news bulletins get updated every 15 minutes throughout the day. Further, they have been segmented into General, National, International and Business Bulletins.
However, we also have half-an-hour news bulletins at 1 pm and 7 pm besides having an one-hour bulletin during Prime Time at 9 pm. We have also introduced a Mid-night Bulletin at 12 am, which gives a complete picture of all news happenings of the day.
Except for a few weekly shows, the duration of other news-based shows too has been confined to 12 minutes.
INN Live's content has been designed basing on a random survey and simple analysis of what Urdu speaking audience want. We also have innovative shows like Rahbar-e-Karobar (Business Guide), Aapka Paisa (Investment Guide), Shariah Business and Job Show.
With authentic and well-researched content on topics related to Shariah finance, banking and related subjects, INN Live aims to capture the rapidly growing Shariah finance market in India. It provides information about the stock markets, mutual funds, real estate and all other Shariah-compliant financial products available across the country.
INN Live caters to all the sections of Urdu speaking population. It will guide the middle-class Muslims on how to start own businesses within limited resources while linking them with the government and other private financial institutions.
For the rich audience, the channel offers advisory services on investment opportunities. Special emphasis is being given on showcasing the projects that can generate employment.
The show 'Brand Hyderabad' has been aimed at showcasing the achievements of Hyderabad-based companies, both listed and un-listed. Besides making mini-corporate films for our clients, we will also cover all their events and tell their success stories to the world.
Another show 'Chu lo Aasman' aims to network small businessmen by formation of SME clusters. We hope to form at least 100 such clusters by networking about 5,000 small businessmen across India, in the first three years of operation.
INN Live will provide an easy and affordable platform to all the small and mid-size businesses to advertise and market their products and services. Unlike the regular display or classified ads, ads on our channel's website will be innovative, interactive and effective.