Hyderabad, October 29 : Pradesh Congress Committee president Botsa Satyanarayana on Monday expressed confidence that inclusion of 11 ministers from Andhra Pradesh in the Union Cabinet would strengthen the party in the State.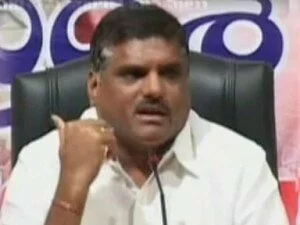 Talking to reporters at Gandhi Bhavan, Botsa said that the State got a major share during the reshuffle and expansion of Union Cabinet on Sunday and the inclusion of 11 ministers would rejuvenate the party at all levels. He said that the party cadre could now gear up for 2014 elections. Welcoming the induction of K Chiranjeevi into the Union Cabinet, he said that this move would benefit the party across the State.
However, Botsa refused to comment on change the portfolio for S Jaipal Reddy. When asked by the reporters whether Jaipal Reddy's difference with the Reliance led to the change in his portfolio, he said he was not aware of it. He said it was Prime Minister Dr Manmohan Singh's prerogative to allot portfolios to the members of his team.
Speaking about Eluru MP Kavuri Sambasiva Rao's resignation, the PCC chief said that he had tried to convince Kavuri to withdraw his resignation. However, he said Kavuri did not give any commitment. He said he would aprise the Congress High Command about the same and would recommend that Kavuri's services be utilised for the party. He said it was natural for senior leaders to get disheartened if they were denied berth in the union cabinet.
Botsa informed that the Congress leaders, from block to State levels, would participate in the AICC Convention to be held at Ramlila Maidan in New Delhi on November 4. He said that the convention would help the Congress leaders understand the policies of the Central Government and they could effectively counter the allegations of opposition parties.
The PCC chief also ridiculed the criticism of Bharatiya Janata Party on the recent cabinet expansion and alleged that the BJP was simply resorting to criticism, instead of playing the role of a constructive opposition.