Share this on WhatsApp
Hyderabad, October 24 : YSR Congress party leader Sharmila on Wednesday assured that all the problems being faced by different sections of people in the State after her brother YS Jaganmohan Reddy comes to power in next elections.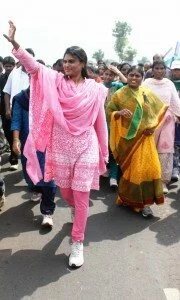 Addressing a public meeting at Tadimarri of Anantapur district during the seventh day of her "Maro Praja Prasthanam" padayatra, Sharmila alleged that the Congress Government has failed on all fronts. She also alleged that the welfare schemes started by her father and former Chief Minsiter Dr YS Rajasekhara Reddy have either been scrapped or diluted by the present government. She said that all the sections of the society were facing problems due to the indifferent attitude of the government towards them.
However, Shamila assured that the problems would be resolved once the YSR Congress party returns to power after next elections. She appealed to the people to support Jaganmohan Reddy to bring back "Rajanna Rajyam" in the State.
During her padayatra, Sharmila covered Tadimarri, Taditota, Chillakondapalli and other areas. She also interacted with people at different places about the problems they are facing.
Sharmila was accompanied by YSRSCP MLAs Kapu Ramchandra Reddy and Gurunath Reddy other leaders and workers.
Share this on WhatsApp