Share this on WhatsApp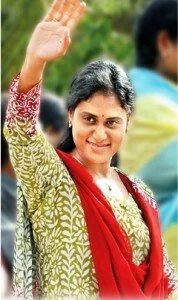 Idupulapaya, October 18: YSR Congress party president YS Jagan Mohan Reddy's sister Sharmila launched her marathon padayatra here on Thursday.
"When one of my kid is in jail, I am sending another to you," Vijayamma said in an emotional tone while addressing the inaugural public meeting here. "We are surviving only because of your support and love," she said adding, "You have been supporting us since we came out of Congress party. We enjoyed your blessings from Kadapa by-elections to recent by-elections and we need your continued support."
Vijayamma claimed that YSR fulfilled all the promises that he made during his padayatra before 2004 elections. However, he accused the present Congress Government of diluting all his schemes. After YSR's death, Jaganmohan Reddy wanted to fulfill his father's unaccomplished dreams, but he was jailed under false charges, she said.
She said that the padayatra was proposed by Jagan when the family members met him in Chanchalguda Jail. He advised them to remain among the people to listen, understand and solve their problems. Since Jagan is in jail, Sharmila volunteered to launch the padayatra till he is released.
Vijayamma also compared the achievements of YSR with the failures of Telugu Desam Party president N Chandrababu Naidu. Stating that YSR brought special package of farmers from the Centre, she said Naidu did not even visit the families of farmers who committed suicide. She accused Naidu of scrapping Re 2 per kg rice and total prohibition schemes launched by NT Rama Rao.
Ridiculing Chandrababu Naidu's padayatra, Vijayamma asked if the TDP chief was so unhappy with the government then why he was not introducing No Confidence Motion. She said the YSRCP offered open support to the TDP's No Confidence Motion. However, she said both Congress and TDP were afraid of facing the elections as they were aware that Jaganmohan Reddy would sweep the next polls.
"As YSR's daughter, Jagan's sister and an ordinary worker of YSRCP, I'm launching this padayatra to bring back Rajanna Rajyam," Sharmila said in her speech.
Describing Naidu's padayatra as "yellow drama", Sharmila alleged that the TDP and Congress parties were hand-in-glove in the conspiracy of keeping Jaganmohan Reddy away from the people. She alleged that a delegation of TDP MPs met Union Minister P Chidambaram asking him to influence the judge and utilise the Enforcement Directorate to fix Jagan. She said it was on the same day that the ED has attached the properties of Sakshi Group.
Sharmila said that the Congress and TDP together were trying to ensure that no third political party gets strengthened in the State. She said that was the reason why Naidu launched his padayatra while ensuring that Jagan remains in jail for a longer period. Holding Naidu responsible for suicides committed by thousands of farmers during his rule, she said Naidu's words would not be believed by the people.
Calling herself as a bow of her brother, Sharmila said that she has launched the padayatra to dethorne the "inefficient Congress government". She expressed confidence that the padayatra would be concluded by Jagan after his release from the jail.
Earlier, accompanied by her mother Vijayamma and her sister-in-law and Jagan's wife Bharathi, Sharmila paid tributes to her late father and former Chief Minister Y S Rajasekhara Reddy at YSR Ghat here. A multi-religious prayers was also held at the site where priests wished her luck for the success of her Padayatra.
Later, Sharmila visited the IIIT and interacted with the students. On the first day, she is scheduled to walk 13 kilometres covering Veerannagattupalle, Kumarampalle , Vempally intersection and Rajiv Nagar Colony.
Sharmila is scheduled to walk 3,000 km covering all 23 districts of the State.
– INN
Share this on WhatsApp